OCTOBER 2020
"October is a month of looking for balance leading up to surprising new Halloween traditions and events. "
FULL MOONS FOR OCTOBER
The first of October's full Moons rises on Thursday, October 1, reaching peak illumination at 4:06 P.M. Central Time (it won't be visible until after sunset, however). October's second full Moon rises on Halloween—Saturday, October 31—and hits peak illumination at 9:51 A.M. Central Time. Go to the Old Farmer's Almanac.
[Monthly Astrocasts are linked to the Astrologer sites and depend on their updates to be current. They usually update on the first of the month.]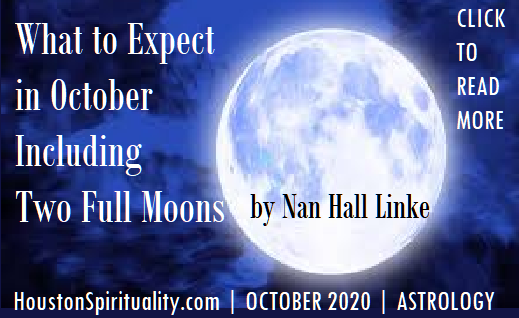 Share Your SuperPower for Just a Donation:
© Copyright Houston Spirituality Magazine 2018-2020 or
The Individual Authors/ Astrologers/Websites/Artists