Vibratory Healing with Jill 's Wings of Light (Read & Listen)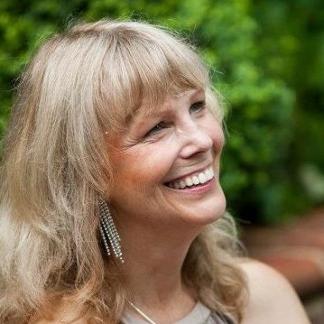 Adventure into the World of
Healing with Sound!
Healing Music, Books, Articles,
Videos and Art!
Free soundhealing mp3s at bottom of Home Page at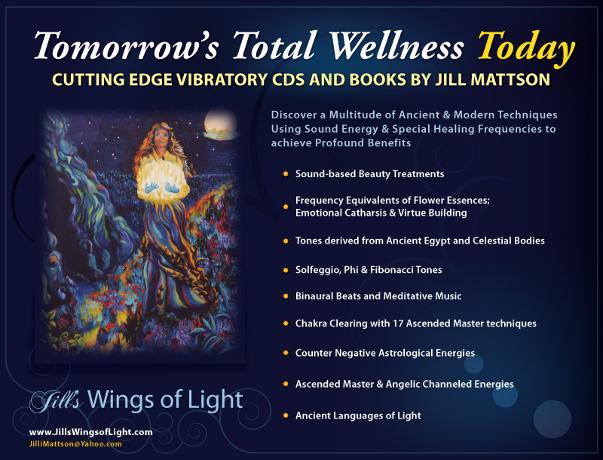 Special frequencies, rhythms and harmonics expand our consciousness.
Fibonacci and phi tones and ancient Solfeggio tones are embedded in this soul soothing music (the free mp3s)!
Music of the movements of the stars is converted into sounds in this healing music!
Also added are associated frequencies of carbon, hydrogen oxygen and nitrogen - found in the stars and in our bodies.
Soul therapy and the sounds of flower energy!
Frequencies and music to clear negative emotions and build positive feelings!
Jill Mattson, a prolific Artist, Musician, Composer, and Author, seeks to further the use of sound in healing. She is committed to teaching techniques that enhance spiritual, mental and physical growth through vibratory energy, and encourages communication and the universal sharing of new information on Sound Healing around the world. Jill combines her extensive research of modern Sound Healing with the 20+ year study of ancient civilizations and secret societies in her works. Discover a multitude of Ancient and Modern Techniques using Sound Energy and special Sound Healing Frequencies to achieve remarkable results. Realize Tomorrow's Total Wellness Today!
Jill Mattson is a widely-recognized expert and composer in the field of Sound & Color Healing! She has also produced nine musical CDs with intriguing, magical tracks using ancient & modern techniques, & special healing frequencies to achieve profound benefits. Jill is a four - time author. (Crystal Realms CD – Best Sound Healing CD of 2017, Best Overall Music (popular Vote and Industry Leader's Choice – Gold Awards), The Lost Waves of Time – Best Book of 2016 and Best Alternative Science book of 2016, Deep Wave Body Healing CD– Best Sound Healing CD of 2016, Contacting Angels & Masters CD – Best CD of 2015 and Deep Wave Beauty CD – Best New Age CD – Silver Award). Jill has participated in hundreds of teleseminars, radio shows, and magazines! She offers an online Sound (& Color) Healing School. Jill presents new ways of approaching health and everyday issues using the benefits of sound and color! Free Music & School of Sound Healing at www.jillswingsoflight.com
Healing Art:
Did I ever tell you how much I like to paint? I think I NEED to paint, like I don't get needed life energy if I am not painting! Painting for me has become a form of spiritual mediumship. I get messages of things to come. It is like a dream, I prepare for events... and particularly for times of difficulty... before they happen. I see what's coming up by observing how my paintings evolve. Sometimes I recognize people I paint, yet I have never met them. Strange. The energy from the eyes radiates the energy of the soul. Once I painted a portrait of a woman, dead on - before I met her. I also reveal deeper issues that I am afraid to consciously face. I think I know myself, but I paint issues that I am not conscious of. Have you ever said? "Oh, that doesn't bother me?" Then later you catch yourself mulling it over and over.... Likewise, I think I am over a hurt, but when I paint... the issue comes up again and again! Other times I have painted things that haven't happened in my life. Yet, but later they come true. It is like a dream, I prepare for events... and particularly for times of difficulty... before they happen. I see what's coming up by observing how my paintings evolve. Mostly I paint just because I love it! Perhaps the rainbow colors are an octave of music. Like a song, art can heal us. I have a gallery of my paintings...and there are a lot of them! You can see my art at www.redbubble.com/people/jillimattson . You can get prints at this red bubble site! Or there is a gallery at http://www.jillswingsoflight.com! Click under paintings and prints! ~
COSMIC WISDOM ARTICLE ARCHIVES . JILL MATTSON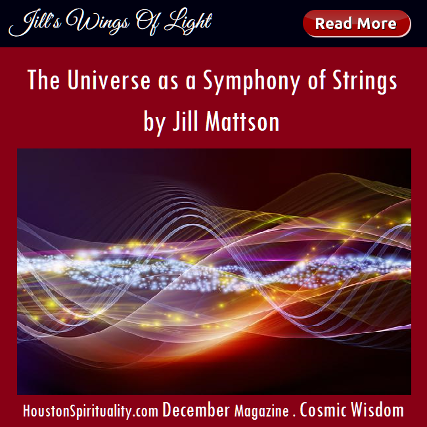 What do Fifth Century B.C. Pythagoreans have in common with modern state-of-the art cosmologists & physicists? In a word - strings!
For the ancient Greek Pythagoreans, it was the lyre string; modern scientists postulate infinitesimally small strings as the ultimate building blocks of the universe.
September - Jill Mattson Shares Wisdom from The Crystal Skulls of Atlantis
Connecting you & your Crystal Skull to the 13 great Atlantean Skulls –
containing energy & information about the Atlantean Golden Age – The highest energies achieved by people on this planet!
• Connect you & your skull deep within Mother Earth and the Great Central Sun
• Connect you & your skull to the 12 Temples of Atlantis during her Golden Age.
• Connect you & your skull to the 12 great priests and priestess of these temples with channeled energies.
• Activate you & your skull the 12 strands of your DNA with these Atlantean Temple Skulls. By storing this information in your skull, your DNA can be reactivated after the energy is lost due to illness, challenges and negative energies.
• Receive a message and energy treatment from your Crystal Skull!
Use energy of the Void to create and manifest with the amplification and broadcasts from your crystal skull. Your skull can work on manifesting while you are doing other things! Next, use the music and language of the crystal kingdom (and crystal skulls) to provide high energy of things that you have desired and are in your highest good. Receive downloads of light and gifts!
August: The Sephiroth - Gateways to Higher Consciousness, Energies and Things We Want in Life -
(The Tree of Life & What it Can Do For You) - with Jill Mattson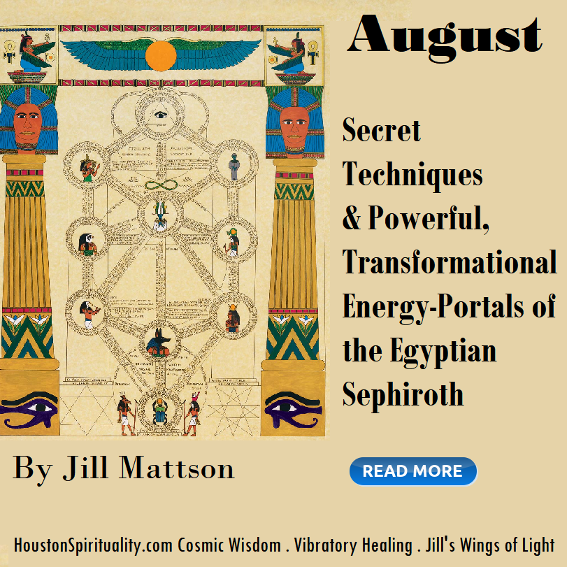 The Sephiroth can aid in manifesting, abundance, health, better relationships, and the unfoldment and the achievement of our life path. This ancient gateway system represents the path in which God or All That Is stepped down into human form so it could experience itself as a human being, and so that we could experience another human being, seemingly separate. As God subdivided, each time, an attunement, a portal, was created to shield those energies so God could experience itself in another form.
Read More. Watch the Above Videos to learn even more. The Video on the right has a musical attunement to Splendor.
Click to buy the Deep Wave Beauty CD
Featured in the Video.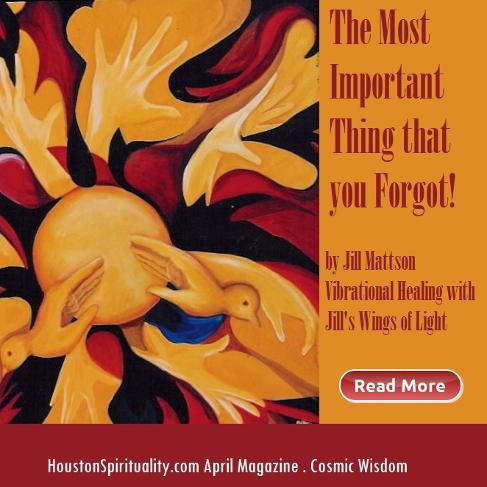 In the Beginning was a song ...
The song was absolutely beautiful – like invisible colors painting the sky in a translucent and uplifting way. The song sang to itself. All day and all night.
Alas, the song got bored after many repeats of its song-beauty, so it experimented with different tunes. At first, there were little variations in the melody, rhythm, and harmony. The next thing you know, there were sweeping musical changes.

LOVE AND MUSIC . ARTICLE/AUDIO
Jill's Wings Of Light . Music as a Force!
Music was used to alter civilizations. People created music to change people's thinking and emotions. It was even used - like many people today - use drugs! Several years before the American Revolution, patriotic and freedom songs were popular. The government sent bands to the little towns to get people to enlist. The songs were designed to encourage young men to fight and go to war.
American Indians used "war" dances to strengthen warriors "mettle" and aggression. In ancient Hindu history, terrifying sounds were used to unnerve and scare enemies. They used a drum so big that it took many elephants to move it!
In the Bible, David played the harp to lift Saul's depression. It is said that that Alexander the Great had his sanity restored by music played on the lyre. The Greek philosophers took people with mental health issues to concerts for therapy.
The ancient Greeks believed music had the power to heal the body and soul. They used the flute and the lyre for gout and sciatica. Paeans were a classification of ancient Greek songs that cured specific illnesses. Egyptian papyri, over 2,600 years old, refer to "sound" incantations used as cures for infertility and rheumatic pain.
The ancient Egyptians wrote musical notes and letters on paper and the ink-like substance dissolved in water. They drank the water to heal certain ailments. They believed that the vibrations created by shapes and words created a subtle energy, that when ingested, were healing and enlightening.
These ideas remind me of Masuro Emoto's work, showing freezing water affected by positive words produced pleasing and beautiful shapes. Angry words created lopsided and distorted patterns.
One thing for sure, music was more than entertainment! It was a tool to change people's energy - body, mind, and soul!
For more interesting information, read: Strengthen Love with the Most Unexpected Thing . and The Secrets of Snow from January.
A Sampling of Jill's Healing Music on Amazon.
Each cover links to a listen and buy page.
© Copyright Houston Spirituality Magazine 2018 or The Individual Authors/Websites