THE UNICORN CONNECTION
As a child the better part of my days was spent reading. I loved the mystery and romance of the fairy tale books my relatives gave me. The ones that truly caught my eye were the ones that contained Unicorns. They represented all that was beautiful and magical and powerful. They were protectors and friends. I never tired of looking at the pictures or reading the stories.
Many years later the time came when I needed a protector and a friend and I turned to my memories of the Unicorn for help. I was dying, emotionally and physically, when I sent my plea out into the Universe for help. The energy of the Unicorn came and wrapped me in its folds. She touched me with her horn and the power of the poison began to dissipate. She told me to have faith that she would always be there for me. And it was true and never failed me. As the months passed during my healing process I became aware of other realms, other energies that were peaceful and nurturing. I made my decision to become as the Unicorn, and the part of me that can be deemed as "spiritual" is the Unicorn energy that healed me.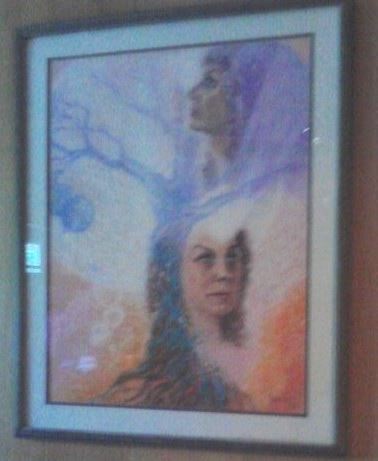 Margaret Rustan-Dixon is The Unicorn
This painting of her was done by the famous spiritual painter, Arthur Douet, who is now on the other side. It shows her connection to the trees and her multidimensional connection where her unicorn wisdom comes through.
Below is Margaret and her grandson Chris.
SPIRITUAL TRAINING
My introduction to the world of UFOs and Metaphysics came about in the early 1960s when I was first introduced to UFOlogist George Van Tassel at Giant Rock Airport in Southern California. During the ensuing three years I had my first psychic reading, discovered Edgar Cayce, the pendulum, Self Realization Fellowship and met my first Yogi teacher, Adano Ley. (Some eighteen years later when I moved to Houston, I studied Adano Ley's Solar Nutrition and adopted the diet. Then in 2011 I was introduced to the McDougall diet and became Vegan. I posted a blog in 2011 that included information on both diets entitled "Beyond Vegan." Margaret and Veganism is a blog you might want to take a peek at in case you are interested in changing your eating habits to that of a vegetarian or vegan.)
As I gradually settled into being comfortable with Metaphysics I investigated many forms of what was described as the "supernatural." I was intrigued because it all felt "natural" to me. Many classes and workshops followed, and I attended services, classes, and workshops at both Tzaddi and Astara in the Los Angeles area.
In the late 1970s, I moved from California to Houston, Texas where I met The Reverend Eleanor Button, Pastor of The Chapel of Prayer. Eleanor took me under her wing and began teaching me about energy healing. Besides teaching classes and holding healing services at the Chapel, she hosted mediumship development classes and channeling groups in her home. Her living room was always packed for this class, and it gave us all an opportunity to share our energies and thoughts. If it were not for Rev. Button I would not have pushed myself to learn and experience the vastness of the Metaphysical Arena.
With her encouragement I began working with Spiritual Healing and understanding the many forms of energy we live in. I studied Photo-Chromotherapy and Chromotherapy, Numerology, Chakras and Auras, the Ascended Masters and the Subtle Bodies of man. I also met Sandy Penny, and we became life-long friends and spiritual explorers.
Teaching became a way of giving back to the Universe the many blessings it had bestowed on me. I wrote handbooks for beginners on classes I offered in Mediumship, Channeling, Color Healing, Chakras and Auras, and Numerology. I was invited to be guest speaker on radio shows, to present demonstrations to organizations and to author columns in Metaphysical publications, one of them The Rising Sun, published by Sandy Penny.
I, with a friend, opened Spirit of Allemeth, a Metaphysical Center in South Houston where we offered classes, consultations, private readings and charts, psychic fairs and channeling circles. I began channeling an individual named Solaango. As I became more comfortable with him, we discovered that he was from quite another dimension. He talked with us in our development circles and told all the students that he would always be available to them. As a result, several of my students found they could also channel him. Although I have done little channeling since I closed Allemeth, in the mid 1980s, his presence is still around, and messages still come through when needed. I continue to share what I have learned.
Copyright by Houston Spirituality or Unicorn Wisdom