Messages from Beyond the Veils | Sandy Penny
Publisher/Editor/Author of Houston Spirituality Magazine | Visionary | Psychic | Meme Maker | Proofreader | Editor
As a seeker, teacher, traveler, and a woman of wisdom, Sandy Penny has explored many metaphysical topics. She began her conscious study in 1975 at The Chapel of Prayer with Rev. Eleanor Button, now passed on, but who taught so many famous metaphysicians that she was known worldwide.
Sandy first explored opening her own psychic and healing abilities. She continued learning meditation, contemplation, channeling, mediumship, healing, and as her abilities developed and strengthened, she began to get messages of importance for a larger audience for the greater good. She learned to take many leaps of faith to get to new levels physically, emotionally, energetically, and cosmically.
She honed her skills with Tarot, Runes, Numerology, Crystals, Straight Up Psychic Readings, Signs and Symbols, Dream Interpreting, Archetypes, Past Lives, Integrations, Intuition, Empathic Abilities, Energy Healing, Color Healing, Emotional Release Techniques, Forgiveness, Gratitude, Acceptance and Loving Kindness. She requested non-incarnated guides and direct connection with The Oneness, Angels, Elementals, Other Worlders, and Ascended Masters.
Sandy follows her own path of synthesis, taking everything she learns and embodying it in her life and exploring what it means to her. She works with the Akashic Records and Humanity's Group Consciousness to focus on the highest and best good for all concerned. She freely shares all that she has learned through her writings, this magazine, and one-on-one with all she meets.
Through the years, I have received psychic messages about Technology as Hope for the Future. When these tech advances show up, I like to point them out for the hope they represent. I have a blog for that. (See July articles below) ~SandyPenny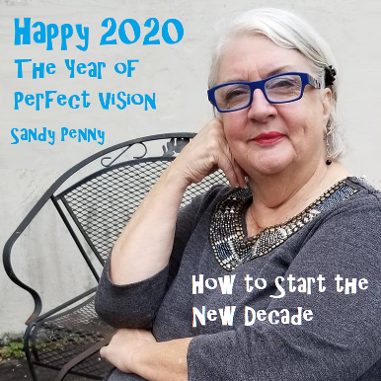 It has been my practice to start the new year doing things I want to be doing all year. It takes a bit of time to consider what those things are, so I recommend taking the time to get clear about it.
This is an especially important year as it starts a new decade, so we have the opportunity to set the tone for the next 10 years. That's a powerful place to be. It's less about resolutions than it is about owning what you really want, not what you think you should do, but what brings you joy.
2020 is the Year of Perfect Vision, and being a 4 Universal Year, it offers us the opportunity to build new structures in keeping with our perfect visions. Lee Harris says 2020 can be filled with "blinding clarity." I say that only happens if you are willing to open your eyes and embrace the truth of what you're seeing. It's time to stop talking yourself out of it.
In 2005, I was interviewed by Claire Papin on what we could expect from the Aquarian Age, and I was shown all these C words: communication, cooperation, creativity, compassion and community. Now I'm seeing those words showing up in the predictions for 2020. So I can heartily recommend that you embrace those concepts and incorporate them into your daily life. Their energy has been brewing for years now, and it's finally ready to be implemented. We'll be seeing some amazing inventions, solutions to old problems, new financial structures for us to be able to create what we love and get paid for it.
It's an amazing time, and we can take the best advantage of the flowing energy by starting new practices in our lives based on the five Cs. Take this opportunity to find what connects with your heart energy. Feel that stream of love that flows when an idea comes to you, and you know it's what you want. Grab it, encourage it, play with it, and let it be birthed in love and joy.
If you would like to read the full article/interview with Claire and Me on New Age Business, CLICK HERE.
And the Followup Article: What Creates Success in the New Age? CLICK HERE.