The Natural Healthy Food Yum - March 2019
Houston has so many choices for good healthy food, sustainable practices and unique vegetarian options.
Restaurants, recipes, articles, and healthy events coming soon. If you visit these restaurants or businesses, tell them we sent you.
"Sharing food with another human being is an intimate act that should not be indulged in lightly." ― M.F.K. Fisher

The Restaurant Buzz ...
Mention that Houston Spirituality Magazine Sent You!
Vibrant is in my neighborhood, and I've visited multiple times now. I'm kind of addicted to it. ~SandyPenny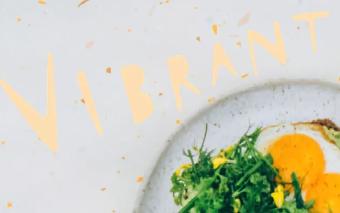 NEW Hours: Breakfast 7-3 . Lunch 11-4 . Happy Hour 5-6 in the bar . Dinner 5-10. Address: 1931 Fairview, Houston, TX 77019 .
832-409-6423 . gm@wearevibrant.com
I am a vegetarian, so my comments will focus on veggies. Although it is not completely vegetarian, it does offer many fantastic options for vegetarians. All the foods are prepared in healthy ways and sustainably sourced, organic and local where possible. They also serve my favorites, organic micro-greens and edible flowers. They have fantastic grainy but delicious muffins, heavy dark nutritious spelt bread that can be added to any meal. I've had the grains and greens which includes micro-greens and excellent seasonings with nuts. They tend to use a little more apple cider vinegar than I Iike, but the flavor is unique, and I'm sure they'd leave it out on request. Their carrot and ginger soup was yummy, smooth and creamy and just spicy enough.
My two favorites are buckwheat pancakes topped with yogurt, crushed granola, cornflower petals, and lavender maple syrup. Best pancakes ever. I also really like their baked egg skillet. Eggs are served on a bed of lightly cooked purple cabbage, shallots, caraway and garnished with sliced avocado, house made chicken sausage (I get bread instead), sunflower seed ricotta, and topped with pasture-raised eggs. Salads, noodles, smoothies, teas, kids menu. Plenty of choices in a relaxed open atmosphere with several outdoor areas in addition to the indoor tables.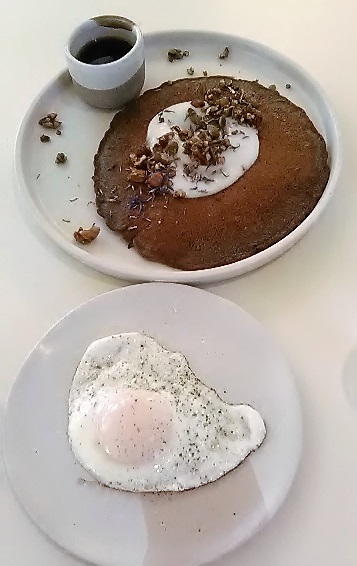 ~Sandy Penny (Tell them Houston Spirituality Magazine sent you.) (Photos by Sandy Penny, cell phone. Does not do the Vibrant food justice.) Photos: Baked Eggs, Bottom Left. Breakfast Socca, Bottom Right (Chickpea flour chapati on the bottom. arugula-hemp seed pesto. Oven roasted tomato, watermelon radish, fried pasture raised eggs, sliced avocado garnished with mixed edible flower petals and micro-greens.)
Mention that Houston Spirituality Magazine Sent You.
Veggie tacos as well as fish, shrimp, and meat, all $1 for street size tacos. Two delicious options for vegetarians: 1. Portobello with cauliflower puree, jalapeno jam and Monterrey jack. 2. Veggie with mushroom, zuchini, yellow squash, onion and red pepper. Add a dash of their red or green salsas and you're good to go. Great spiced fries and guacamole too. (Mention that Houston Spirituality Magazine sent you.)
The Phoenix on Westheimer is definitely a sports pub, but they have some wonderful vegetarian options. I live close, and I eat there quite often. Their cauliflower appetizer is delicious. Great fries too and soft pretzels too. For dinner, they have the famous Impossible Burger and wrap. My favorite is the Harvest Pie, a vegetable pie with beyond meat strips and topped with mashed potatoes. So big you'll want to share it with a friend. The Southwestern Veggie BLT is yummy. Plenty more options too including salads and fresh cooked veggies on the side. ~Sandy Penny (Mention that Houston Spirituality Magazine sent you.) (CHECK OUT THEIR NEW FARMER'S MARKET ON SUNDAYS IN THE PARKING LOT!)

© Copyright Houston Spirituality Magazine 2018 or The Individual Authors/Websites/Artists